Colorado Rockies: If They Had Kept the Players they Originally Drafted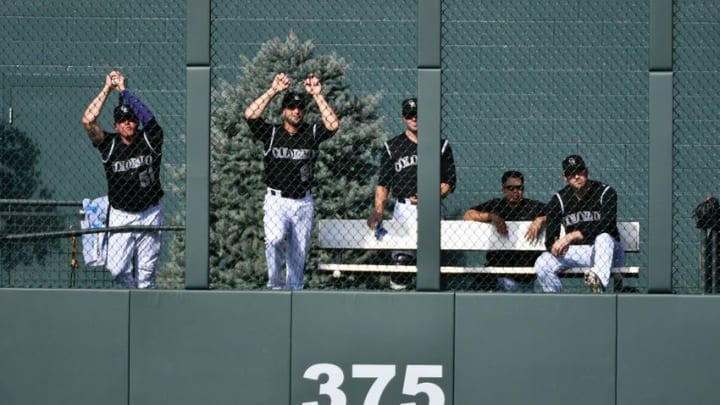 Sep 5, 2016; Denver, CO, USA; General view of the bullpen of the Colorado Rockies during the ninth inning against San Francisco Giants at Coors Field. The Rockies defeated the Giants 6-0. Mandatory Credit: Ron Chenoy-USA TODAY Sports /
There was an interesting story a few days back from ESPN's FiveThirtyEight column, regarding how the MLB standings would look right now if they had stuck with the players they originally drafted, or otherwise acquired. It showed the 2016 standings on how each team would be sitting based on this scenario. For the Colorado Rockies, things would be much different.
Neil Paine of FiveThirtyEight used statistics gathered from The Baseball Gauge, which uses WAR (wins above replacement):
"The site tracks how many wins above replacement (WAR) have been produced by players who were originally drafted (or otherwise acquired) by each franchise, which can be easily converted into wins and losses. Here's how each division would look if teams were stocked exclusively with homegrown players."
Here is the NL West:
NL WEST
WINS
LOSSES
WIN %
GAMES BEHIND
1
Colorado Rockies
67
66
.504
—
2
Los Angeles Dodgers
67
66
.504
—
3
Arizona Diamondbacks
66
67
.496
1
4
San Diego Padres
64
68
.485
2.5
5
San Francisco Giants
63
69
.477
3.5
2016 MLB standings, if teams kept their original talent
(Based on 2016 WAR of players who were originally drafted/acquired by each franchise.)
Hmm, instead of being 10 games back (as of today 12 games back) in the division, the Colorado Rockies would be sitting tied for first place!
Of course, there is far too much money in baseball and with free agency, this would never become reality over fantasy.
However, it is a fun exercise. It also shows the Rockies should continue with their policy of developing their farm system talent. If these players develop and add higher WAR than the imported players, the Rockies could be a much different team quickly in the future, perhaps as soon as 2017.
And if this were to become the case, this fantasy NL West standings could well look like this one day, soon.
As a Rockies fan, this scenario would be awesome to see!