Matt Herges Talks 2007 World Series, Pitching at Coors Field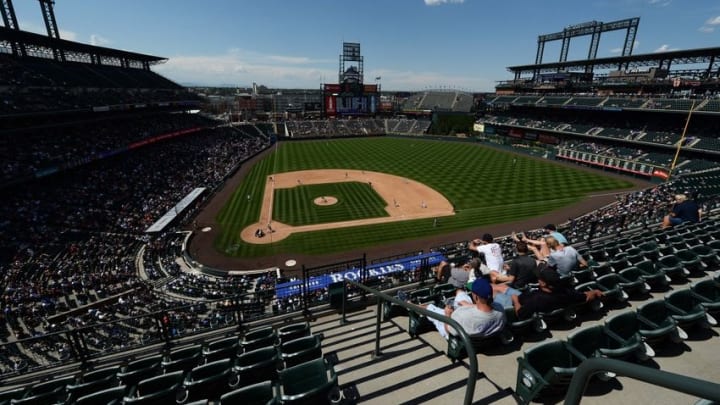 Aug 17, 2016; Denver, CO, USA; General view of Coors Field during the fourth inning of the game between the against the Washington Nationals against the Colorado Rockies. Mandatory Credit: Ron Chenoy-USA TODAY Sports /
Apr 8, 2016; Denver, CO, USA; General view of fans heading to Coors Field before the game between the San Diego Padres against the Colorado Rockies. Mandatory Credit: Ron Chenoy-USA TODAY Sports /
KH: How much do you still keep up with the Rockies?
Herges: "That organization is very dear to me, and I'm a Dodger. That's who my employer is and that's who I want to get to in the big leagues. However, Jeff Bridich was there when I was there and I think very highly of him and every coach they have on the team. They're bringing in Darren Holmes and Steve Foster and those are great moves. Those are character people. It starts at the top. Even at the top, they're character people and that filters all the way down. The raw materials are there for them to be great again and I hope they do it. Not at our expense, of course, but I hope they do it. I watch them a lot and they have some players."
KH: Is there a secret to pitching at Coors Field?
Herges: "How to pitch there is a totally different animal. I have my opinions. If you're not completely sold out on throwing the ball over the plate consistently, you will not succeed. If there's a sliver of doubt or anything but green light, you will fail. You'll fall behind and then you'll be careful or fearful of throwing the ball over the plate and fearful never works. That's when the damage happens and things fall apart.
"They've tried bringing in sinkerballers or flame-throwers but it's a mindset. We didn't have the best arms in 2007. If you look at it up and down, our ace (Jeff Francis) threw 88 to 90 miles per hour. Our closer (Brian Fuentes) was a funky lefty. He threw hard but it wasn't like the Royals bullpen last year. It was a mindset of our backs are against the wall. For me, it was that my life is on the line. I tell my players now that this was do or die for me. If I wasn't out there with full conviction, my kids weren't going to eat. I wasn't going to have a job. It got contagious. The friendly competition amongst the starters and the bullpen was special."
KH: What do you see as the biggest difference between the Rockies organization and the Dodgers organization?
Herges: "Honestly, I see the same type of people in place. I see next-level thinkers and forward thinkers in both. I think the difference could be money. I think the Dodgers have unlimited resources and not many others do. That's probably the biggest difference.
KH: You're now a pitching coach at Triple-A. What drives you?
Herges: "When I got into coaching, I didn't know what to expect. I knew I wanted to stay in the game but I didn't know if I wanted to be in coaching or broadcasting or the front office. For me, I'm in the right spot. I love the relationships with these guys. I love building a scouting report for the pitchers and catchers to follow. Seeing them grow and making progress is so gratifying. We have a good group of people here and, like the Rockies, it starts at the top.
"Honestly, these relationships can last a lifetime. There are guys who have been traded or released who I stay in contact with. I do my best to help them progress and fulfill their dream. Ultimately, their life outside baseball is going to be a lot longer than this. Not teaching them how to be men, but nurturing them to be a dad or a husband or a teammate, that's something that really fires me up."
Next: The Top 5 Shortstops in Colorado History
KH: So what's your career goal moving forward?
Herges: "Ultimate goal is that I want to be a pitching coach in the big leagues. That's what I want to do. We'll see where it takes me. Ultimately, I want to be in LA and who knows if they have that in their mind or not, but that's what I am shooting for."