Colorado Rockies: 3 Things to Know Before Braves Series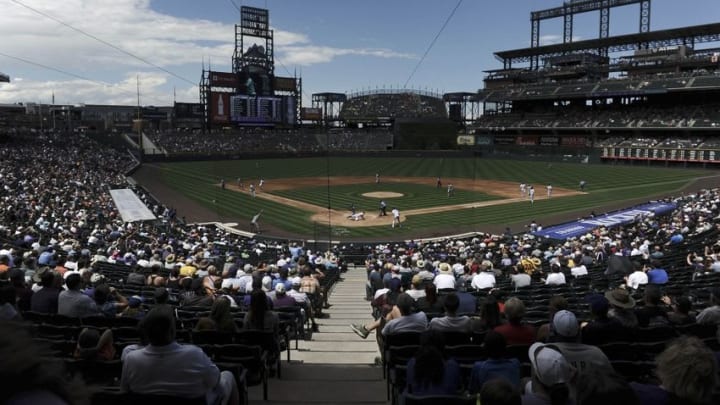 Jul 20, 2016; Denver, CO, USA; General wide view of Coors Field in the fourth inning of the game between the Tampa Bay Rays against the Colorado Rockies. Mandatory Credit: Ron Chenoy-USA TODAY Sports /
As the Colorado Rockies finish their 3 game interleague series with Tampa Bay, we look ahead to tonight as the Atlanta Braves come into Coors Field. Before Tampa Bay came to town, the Rockies had just finished a three game series against Atlanta in which they came out of it slightly disappointed that they could not finish the three game sweep.
Here are three things to prepare you for what is hopefully a successful weekend series.
The series will start with two pitching rematches from last weekend's series. Not only are they rematches, but they are rematches of the two best games of the series. On Thursday we will see the righty Chad Bettis against the second year starter Mike Foltynewicz. Both ended up with no-decisions in the matchup, but both made strong arguments that they could have won the game. The second of the rematches features the two young stars Jon Gray and Julio Teheran. Teheran already has quite the strong resume and is only 25. He has been a key part of the Braves rotation and has continued his dominance this year, even though his W/L total may not show it. Gray threw 7 innings of shutout baseball and the team still lost. This seems to be a recurring theme for Gray, as he has piled up quite a few no- decisions in his young career. Look for two more pitching duels to start the series and more than likely two games decided by less than two runs.
This is a valuable series as we get closer to the
. We may be past the point of no return for some players and how shopping team's value their talent, however this is a good time to put up a big weekend full of strong stats before the August 1st deadline. There have been talks of shopping
to a Nationals team in dire need of a steady center fielder and this would be a good opportunity for him to stay hot and keep his value high. He is riding a twelve game hitting streak and continues to hit over .300. It is unlikely that the Nationals will part ways with their top pitching prospects, but it could be an opportunity to gain some more young talent.
USA TODAY Sports /
The same goes for the more talked about trade target, Carlos Gonzalez. Unlike Blackmon, Gonzalez has somewhat trended down as he is hitting under .260 in the month of July compared to .364 in June. However the Rockies choose to proceed, I don't think they can go wrong with trading either player as long as they get the right price in return.
The Rockies have yet to win a four game series this season. Four game series can be a blessing and a curse. Many times you are able to at least split the series with your opponent, however only winning one of the four, or worse being swept, can cause quite a swing in the standings. The Rockies had a good opportunity to take a four game series earlier this year against a struggling Cincinnati Reds team at home, but ended up dropping three of the four games.
This is a good chance for the Rockies to gain momentum before going on a seven game road trip against two teams with 50+ wins. The Rockies can't afford to overlook this series and do what they can to claim at least three games before taking to the road.
Next: Colorado Rockies: Bad Losses Crumble All Playoff Chances
This is an important series that the Rockies will need to win as we try to start any sort of second half run towards the playoffs. We need to not play down to the lower teams in the league, and take the games we should win, especially at Coors Field. I expect the Rockies to take three of four as we head into more interleague play.