Colorado Rockies: 5 Takeaways From Saturday's Win in Atlanta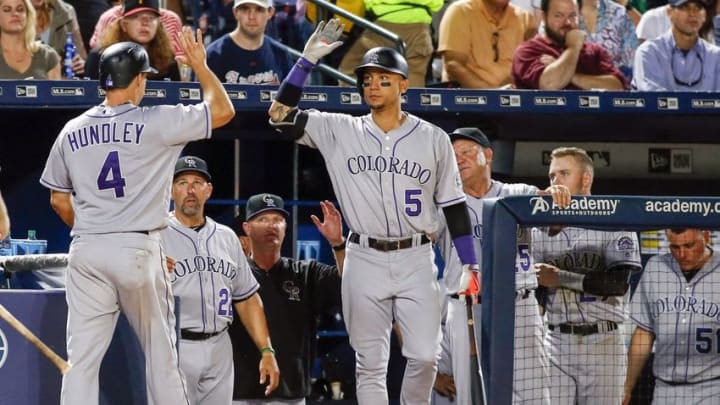 Jul 16, 2016; Atlanta, GA, USA; Colorado Rockies catcher Nick Hundley (4) is congratulated by right fielder Carlos Gonzalez (5) after scoring a run against the Atlanta Braves in the eighth inning at Turner Field. Mandatory Credit: Brett Davis-USA TODAY Sports /
After opening the second half of the season with a bang, the Colorado Rockies looked like they were going to sleepwalk their way to a loss in game 2 of their series with the Atlanta Braves. But a late rally (and some help from Atlanta's shoddy defense) helped the Rockies turn a 3-0 deficit into a 4-3 win. Here are 5 things we learned from Saturday night's comeback.
1. The Rockies break an ugly losing streak

It was a long time coming, but Colorado finally got their first win of the season in a game they were trailing after the 7th inning. The Rockies were 0-43 in such games, and the offense was doing little to inspire confidence through the first seven innings Saturday. But the Rockies strung a few hits together and benefited from a big error in the 8th, and some aggressive base running from Trevor Story one inning later gave Colorado the 4-3 win.
Jul 16, 2016; Atlanta, GA, USA; Colorado Rockies shortstop Trevor Story (27) slides safely past Atlanta Braves catcher A.J. Pierzynski (15) in the ninth inning at Turner Field. The Rockies defeated the Braves 4-3. Mandatory Credit: Brett Davis-USA TODAY Sports /
2. Mike Foltynewicz is starting to figure it out.
Foltynewicz's raw talent is easily apparent (his average fastball clocks in at 95.4 MPH), but until recently, the results were yet to catch up to his talent. Then, Foltynewicz fired 7 shutout innings with 10 strikeouts against the White Sox in his last start before the All-Star break. The Rockies found out Saturday that was no fluke, as he took a shutout into the 8th inning. Things went south quickly after that for Atlanta, but they have to be encouraged by what they saw from their starter.

3. Another up-and-down start from Chad Bettis
Bettis pitched decently Saturday, going 6.2 innings with seven strikeouts while allowing three runs (all earned), but he seemed to lose focus at times. After getting two quick outs in the second, Bettis gave up a double to Ender Inciarte and a home run to A.J. Pierzynski. The 27-year-old has allowed 14 home runs already this season after only giving up 11 in 2015. We've seen flashes of Bettis' talent, but the team would surely love to see him put together a more sustained run of success in the second half.
4. The Braves have been abysmal on defense in this series.

Jul 16, 2016; Atlanta, GA, USA; Atlanta Braves relief pitcher Hunter Cervenka (54) on the bench after being removed from a game against the Colorado Rockies in the eighth inning at Turner Field. Mandatory Credit: Brett Davis-USA TODAY Sports /
You would be hard-pressed to find a MLB team playing worse on defense than Atlanta has in the first two games of this series. They've made four errors, and that somehow understates just how sloppy they've looked. Eight wild pitches would be a lot for one month; the Braves have had that many in the last two games. The Rockies have done what they're supposed to do and taken advantage of those mistakes in winning the first two games of the series.
5. A rare sight: Rockies win without a homer
Colorado isn't exactly unique in this regard, but they struggle to win when they can't hit the long ball. Even after Saturday's win, the Rockies are still 10-25 in games where they don't hit at least one home run (for comparison sake, they're 32-23 when they hit one out). The team's HR totals are down from last season (they're ranked 12th in MLB after hitting the 7th-most in 2015), so it's encouraging to see the team have some success manufacturing runs.
Next: Colorado Rockies: How They Fared in First-Half Challenges
The Rockies finish the series tomorrow in Atlanta with an early wake-up call of a 11.30 start. Jon Gray (5-4) goes for the Rockies (which will be his first career start versus the Braves) and Atlanta sends out Julio Teheran (3-8).