Coors Field: The Five Best Things About Colorado's Home Field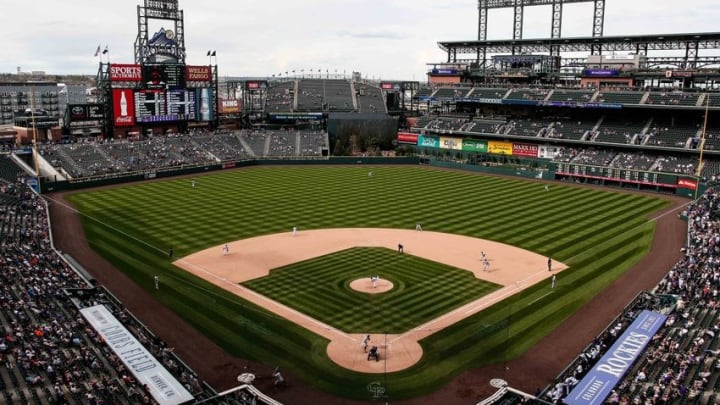 Apr 14, 2016; Denver, CO, USA; A general view of Coors Field in the ninth inning of the game between the Colorado Rockies and the San Francisco Giants. The Rockies defeated the Giants 11-6. Mandatory Credit: Isaiah J. Downing-USA TODAY Sports /
May 23, 2015; Denver, CO, USA; General wide view of Coors Field during the third inning of the game between the San Francisco Giants against the Colorado Rockies. Mandatory Credit: Ron Chenoy-USA TODAY Sports /
3. The Rooftop
Stalnaker: Okay, full disclosure: I think the Rooftop is kind of stupid. I watched about three innings of one game from there after it opened in 2014, and I'll never buy tickets up there again. The reason is that it's just not built for real baseball fans. The only way to both sit and watch a game at the same time is to watch it on a screen (why would you come to a ballpark and then watch the game on a screen??). If you get a spot at the ledge, you'll have a spectacular view of the field, but if you move away for just a second, you'll lose that spot and with it your view. And most of the people on the Rooftop are there to drink and hang out with their friends, so it's pretty loud and rowdy.
But here's why I think it's actually one of Coors Field's best features. For starters, plenty of people go downtown to drink on the weekends, and the Rooftop allows them to do that in a beautiful place. So what if they're not watching the game? They're doing what they love and simultaneously adding to the Rockies' crowd of supporters. They are there, even if they are a little oblivious to what's going on. Also, people who would normally like to go to games but who would perhaps drink a little too much and ruin the experience for others tend to gravitate toward the Rooftop. That doesn't mean you won't occasionally find yourself sitting in front of someone's drunk uncle; it just means that there's a place for people who like being at the game but prefer other activities to actually watching it. In other words, I personally want nothing to do with the Rooftop, but the fact that it's there makes Coors Field a better place.
Henry: The Rooftop is absolutely a place for people to go so they can say they went to Coors Field … and still socialize with their friends without being bothered with a baseball game. It's a great place to drink, socialize, and meet up with old friends … or make new ones. If you're interested in really keeping up with the game, take a seat somewhere else.
Next: Let's Talk About Food...