Coors Field: The Five Best Things About Colorado's Home Field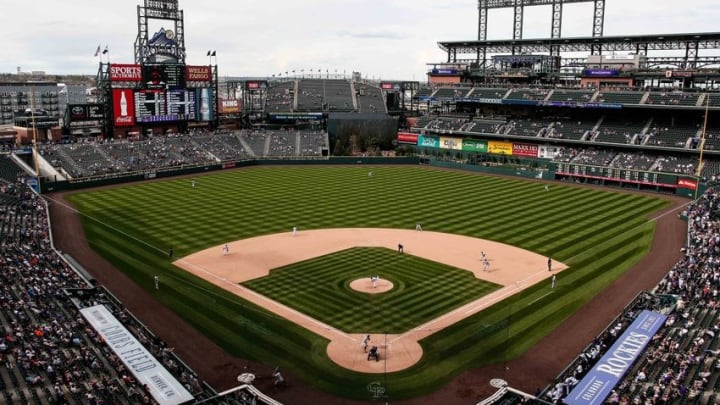 Apr 14, 2016; Denver, CO, USA; A general view of Coors Field in the ninth inning of the game between the Colorado Rockies and the San Francisco Giants. The Rockies defeated the Giants 11-6. Mandatory Credit: Isaiah J. Downing-USA TODAY Sports /
Apr 8, 2016; Denver, CO, USA; Colorado Rockies fans cheer during the seventh inning stretch during the game against the San Diego Padres at Coors Field. The Padres defeated the Rockies 13-6. Mandatory Credit: Ron Chenoy-USA TODAY Sports /
2. The Atmosphere
Stalnaker: Like I said, I've been to a lot of other ballparks. There are a few, like Busch Stadium, where the fanbase is solid. But most fans fall on a spectrum of "entirely indifferent" to "insufferably rude." I won't say where I've found the extreme examples of these things, just that Coors Field is one of the rare baseball venues where the fans are both engaged and generally respectful. I wish we could train them all that the wave is stupid and that booing while the opposing pitcher holds our runner on first base is nonsensical, but those are small complaints. I have so many memories of moments at Coors Field that would not have been the same with a different crowd. One of the best was Todd Helton's last game in September 2013. It's hard for me to imagine Yankees fans reacting that way to Alex Rodriguez's goodbye, or even Red Sox fans enjoying David Ortiz that much.
Henry: I've been to a lot of other ballparks as well. I completely agree with Michelle on St. Louis (even though I grew up following the Cubs and hate to give St. Louis any kind of compliment … but that's just me). I'll compare the folks attending a game at Coors Field to those going to watch the Cubs at Wrigley Field as well. Both fan bases love their beer (although I'll take Colorado's craft beer scene any day of the week) and that is often a primary reason to go to the game … grab a buddy, grab a beer, get a good view and some sun, then head out.
I've seen Yankee fans heckling a young kid (like 8 or 9 years old) for wearing a Minnesota Twins hat to a game at Yankee Stadium. I'm glad Colorado fans respect the opposition and come out to enjoy the game. After all, there are times when Rockies fans in the stadium are almost outnumbered by those cheering for the opposing team. I remember being stunned at all of the orange and black pouring into the stadium for the recent series against the San Francisco Giants. When Denver is drawing in more and more new residents from throughout the country every month, it's no surprise to see a section full of New York Mets fans or hear plenty of cheers for teams as far away as Miami or Washington D.C. when their teams come to town.
Next: We Might Have a Problem with the Rooftop