Coors Field: The Five Best Things About Colorado's Home Field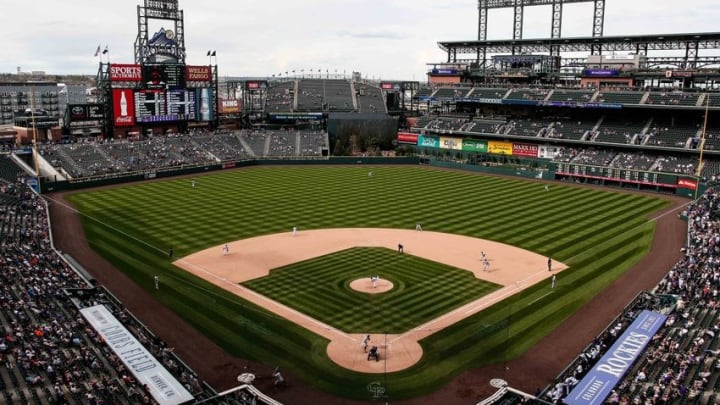 Apr 14, 2016; Denver, CO, USA; A general view of Coors Field in the ninth inning of the game between the Colorado Rockies and the San Francisco Giants. The Rockies defeated the Giants 11-6. Mandatory Credit: Isaiah J. Downing-USA TODAY Sports /
Jun 24, 2015; Denver, CO, USA; General view of a Colorado Rockies banner during a sunset over Coors Field in the fourth inning against the Arizona Diamondbacks at Coors Field. Mandatory Credit: Ron Chenoy-USA TODAY Sports /
1. The View
Stalnaker: Sure, other ballparks have city views and river views, and then there's San Francisco with its dumb bay. But I would submit to you that there is no better sight to catch your eye than the Rocky Mountains, resplendent in majesty behind the outfield at Coors. If you don't choke up just a tiny bit when the mountains come on the screen during "God Bless America," you probably don't have a soul. And those sunsets! There's not much in the world that's better than that.
More from Colorado Rockies All-Time Lists
Henry: One of the best things you can do for someone who is visiting Denver is to take them to a game at Coors Field. The setting is spectacular when the sun starts going down and those yellow and orange colors start filling in the sky behind the Rocky Mountains. This is the best time to be high (not in the 4-20 sense, mind you) in the stadium out in right field so you can get a good view. Grab one of those purple-colored seats and just sit back with a cold one and watch nature's handiwork. It's hard to beat that.
Of course, I will also say that it is hard to beat just the general feel of the ballpark heading to the stadium. If you're driving into downtown Denver from anywhere, you have a great view of the Rocky Mountains. Those of us who live here may almost take that view for granted but it's something to behold for folks who travel to the Mile High City from other parts of the country. A friend of mine from Minnesota came to the opening series of the season against the San Diego Padres. I don't know how many times he commented about the mountains and that you could see them from Coors Field.
Yeah, I'd say we're pretty lucky to have that view for every home game.
Next: Our Second Favorite Thing Is...